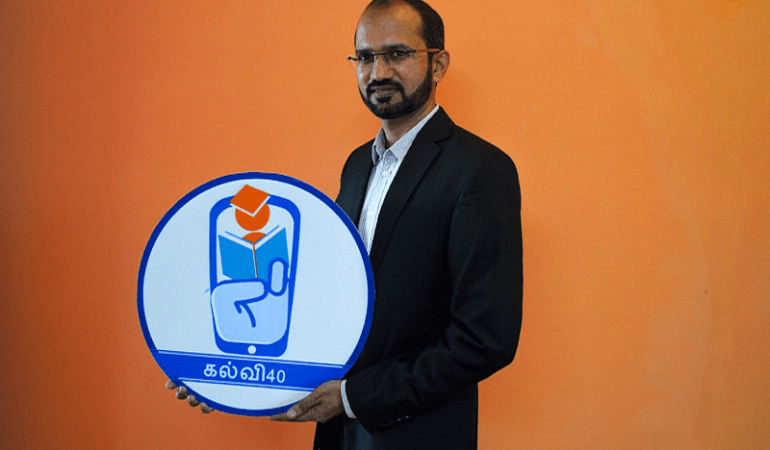 Kalvi40 Mobile Application
Project Description
Welcome to Kalvi40 – A free Tamil educational application for Government school children from 3rd to 8th standard in Tamil Nadu and Puducherry.
BumbleB Trust's non-profit initiative Kalvi40 provides digital content in different forms with a focus on building holistic learning for every Tamil rural student's need.
Advertisement free & simple design Kalvi40 app contains the following features completely in the Tamil language:
Sample Videos
Interesting 3 minutes videos for every student (even if a learner who struggles) to learn in their mother tongue Tamil. All the five subjects, as per the Tamilnadu curriculum, the chapters & topics are listed. Slow-paced audio, visual images-based storytelling method, and key point prompting techniques used for video creation.
The scope of this pilot project is to provide experience on Kalvi40 mobile App based on digital teaching/learning and capture the feedback of
teachers and students of class 6th, 7th, and 8th to five rural schools in Puducherry Union Territory. Quantitatively 57% of students showed improvement and were able to answer more questions after watching Kalvi40 videos.
Practice Test
Self-assessment in an interesting manner at every chapter level. Without the dependency of a teacher or a parent, students can do self-assessment and check the results on their own. Beyond that, at each question level, the mistakes can be observed, and also any number of times, the assessment can be repeated.
Timer based Test
A timer-based test provides an opportunity to take the test within the given time period. So at every chapter level, ability to do an assessment at the necessary pace. Ex. 20 questions at 6 minute time period. This helps the students to gain confidence when they appear for class examinations.
Puzzle
In Tamil, through interesting puzzle (Vidukathai) on every basis, makes the student think and attempt the answer. Every day a new puzzle in audio format is provided, but the answer would be published the next day.
Moral Stories
In Tamil, to strengthen the moral values of students, every day a new moral story would be provided in audio format. Series of 10 top stories are also available to have listened to anytime. Stories based on great Tamil literature like Ex. Kondrai vendan, Aathi chovadi etc are provided by an expert.
General Topics
To broaden students' breadth of knowledge, to develop the overall skill, and to provide a holistic view of education – a variety of topics are listed as series. Examples include, learn French through Tamil, English made easy, improve a reading habit, learn about birds, Thirukural in an interesting format, etc.
Sample videos of Kalvi40
கல்வி40 வீடியோக்களில் ஏன்ன சிறப்பு? இந்த வீடியோவைப் பாருங்கள்
1. தமிழ், அப்படியே நிற்கட்டும் அந்த மரம் பொருள், 7th Standard

2. ஆங்கிலம், Prose: Eidgah, ஏழாம் வகுப்பு, பருவம் 1

3. கணிதம், வடிவியல் செவ்வகம், சாய்சதுரம், இணைகரம், நான்காம் வகுப்பு , பருவம் 1

4. அறிவியல் , எட்டாம் வகுப்பு , பருவம் 1 , அறிமுகம், மூன்று காரணிகள், அடிப்படை அலகுகள்

5. சமூக அறிவியல், வரலாறு டச்சுக்காரர்கள்ஐரோப்பியர்களின் வருகை , எட்டாம் வகுப்பு , பருவம் 1

Sample playlist can be watched
2. கல்வி40 தமிழ்நாட்டில் 6 மாவட்டங்களில் 45 பள்ளிகளில் – பள்ளி அடிப்படையிலான டிஜிட்டல் தீர்வை செயல்படுத்தியுள்ளது
#கல்வி40 டிஜிட்டல் கிராமங்களுக்கு எவ்வாறு எடுத்துச் செல்கிறது?

#திருவண்ணாமலையில் கிராமப்புற ஒற்றை பள்ளி ஆசிரியர் பேசுகிறார்